<! CENTER COLUMN CONTENT STARTS HERE ********************************************************* >
Comprehensive IT Solutions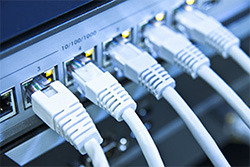 Vista Consulting provides cost-effective, complete computer hardware and software systems design, implementation, training, and support for all your IT needs. We don't just fix things, we evaluate your current and future needs and deliver the best solutions to help your business succeed. Some of the areas we can help with are:
Network Design and Implementation. Network routers, firewalls, switches, cabling, servers, workstations.
Network Administration. Set up of users, resource security, Active Directory, Group Policies, and access permissions.
Remote Access. Remote user, branch office, and VPN connectivity.
Internet Systems. Telecommunications lines, domain names, email, intranet, and hosting setup and management.
Hardware and Software. Acquisition, installation, updates, and maintenance.
Virtualization. Using Microsoft Hyper-V and VMware technologies.
Application Software Support. Microsoft Office word processing, spreadsheets, databases, accounting systems installation, updates, and training.
Helpdesk Outsourcing. On-call support provided remotely and on-site.
Managed IT Services. Desktop and network support, maintenance and upgrades.
Seminars and Training. Seminar series for managers, on-site training, training plan and staff development.
IT Planning and Management. Contract CIO services, IT plans and budgets, IT staff selection, training, and supervision.
Office Moves. Planning and implementing office technology relocations.
Security. Security assessments and compliance, firewall, anti-virus, and other data security systems.
Business Continuity. On- and off-site backups, disaster recovery, redundant fail-over systems.
We also provide many other services not listed above. Just ask.
<! CENTER COLUMN CONTENT ENDS HERE ********************************************************* >