<! CENTER COLUMN CONTENT STARTS HERE ********************************************************* >
Why Get Professional IT Help?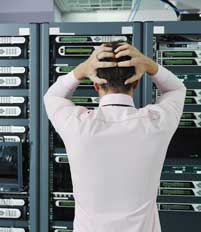 Reliability. Avoid costly business disruptions caused by unreliable computer systems.
Employee Efficiency. Keep employees focused on their jobs, rather than on trying to "figure out" how to solve IT problems they are not trained to handle.
Right Technologies. Pick technologies that contribute efficiently to business success and avoid outdated, "dead-end", "wrong-turn", or excessively complex and costly approaches.
Successful Roll-Outs. Avoid the expense of failed technology implementations by using proven, professional planning, design, and implementation.
Right Cost. Avoid "penny wise and pound foolish" non-solutions, as well as excessive spending on unneeded or overbuilt systems.
Why Choose Vista Consulting?
Experience. Vista has a track record of delivering high quality IT services to hundreds of clients in Northern California (and beyond) for more than 25 years.
Knowledge. High-level, hands-on technical and business expertise designed to meet virtually all small business IT needs. Staff with Microsoft, Cisco, and other certifications.
Professionalism. We are thorough, responsive, and reliable.
Business Focus. We're technology experts, but we provide technology for business success, not for its own sake.
On Site and Remote. We provide on-site services in much of Northern California and use remote access when appropriate for speed and cost-effectiveness.
Small Business Specialists. Specializing in businesses with 5 to 75 computers.
What We Do Especially Well
Networks. We design and implement networks: routers, switches, servers, workstations, including Internet, branch office, and VPN connectivity.
Applications. Help desk support for Microsoft Office, email, and many other common and specialized business applications.
Office Moves. We are experts at planning and implementing office technology relocations.
Security. Firewall, anti-virus, and other data security systems.
Business Continuity. Disaster avoidance and recovery using redundancy to insure business continuity in the event of a disaster.
How to Get Started
Call (707) 575-7400 for more information or a quick start.
Contact Us here to ask a question or have a Vista representative contact you.
Promotions. A free initial consultation and a half-price introductory offer make getting started easy.
Learn more about our services, our clients and projects, and our staff and qualifications.
<! CENTER COLUMN CONTENT ENDS HERE ********************************************************* >