<! CENTER COLUMN CONTENT STARTS HERE ********************************************************* >
IT Foundations and Trends:
Technology Seminars for Business Owners and Managers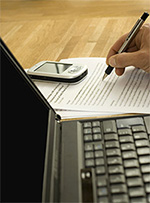 Vista's seminars provide business owners and managers concise information on timely IT topics relevant to managing their businesses. The content is at a technical level appropriate for generalist managers, but specific enough to enable them to communicate knowledgably with IT professionals in the process of making decisions about the areas covered by the seminars.
A panel of accomplished subject matter experts selected from diverse organizations with varied expertise and perspectives presents a well-organized, factual foundation as well as divergent opinions on each topic. This approach delivers a succinct, clear, balanced overview of the topics covered, including the pros and cons of the top approaches and issues for each topic.
Individual seminars usually last two to two and a half hours each, are held as webinars or in convenient and comfortable hotel or other conference facilities, and are low cost. Seminars consist of brief presentations by the panelists, as well as questions and answers both among the panelists and from the audience. In person seminars also provide opportunities for one-on-one networking with the panelists and other attendees at breaks and at the end of each event.
Topics
The following seminars are in development. Please follow the links for more information:
Let Us Know...
Fill in the form below to receive notification of future seminars. We'd particularly like your input on what topics you're interested in and what locations, days, and times you prefer.
<! CENTER COLUMN CONTENT ENDS HERE ********************************************************* >